About Our Band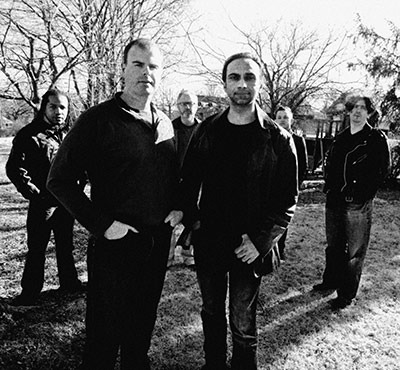 Clara May
is led by Tom Silva, an Indian-American songwriter, and Chicago producer and guitarist, Phillip Amerson. The new Clara May lineup includes returning bassist Michael Sinclair; lead guitarist Alex Gowland; keyboardist Marcus Smith; and singer, Nicole Sotelo; as well as new drummer, Jon Lewchenko, and singer, Andrea Bunch. After developing American Desi over almost two years, they recorded at Chicago's legendary Rax Trax Recording studios as well as the Nook Recording Studio and Bitterson Studios.
"Epic and heartfelt."
– The Deli Magazine
Tom Silva
(Lead Singer/Songwriter) has written a number of soundtracks in addition to his work with Clara May. He is also a film director whose film, "The Quiet," was named Best Independent Film by Screen magazine and premiered at the Art Institute of Chicago. His new film, "Silhouettes" is currently in production. He is currently part of the Master of Arts Program in the Humanities at the University of Chicago, where he is working on a book about Indian identity.
Phillip Amerson
(Producer/Arranger/Rhythm & Lead Guitar) is originally from Charleston, SC and has been playing guitar since age 11. Moving to Chicago in 2006 to pursue music production, he has found a niche in working with artists to develop their songs and style. Amerson plays multiple instruments, including guitar, bass, keyboards. He also leads the hard rock band, Bitterson. For a discography of productions by Phillip Amerson, visit www.bitterson.com/recording. He is currently serving our country in Afghanistan as part of the US Army.
"Silva's rich baritone marries Nick Cave's sneer to the mournfulness of a young Scott Walker."
– My Old Kentucky Blog
"Think American Music Club as done by Low covering Billy Bragg."
– Dancing About Architecture Magazine
Michael Sinclair
(Bass) was the bassist with the Chicago grunge band, Tribal Opera. He has since played with various ensembles around town and on tour, including The Chicago Metropolitan Jazz Orchestra, the John Burnett Big Band and the Lake Shore Symphony. A graduate in Music from the University of North Texas, he is a member of the Standing Room Only Orchestra.
Marcus Smith
(Hammond B3 Organ, Keyboards) is a professional church organist on Chicago's South Side with an extensive background in liturgical and gospel music as well as jazz. Also an accomplished pianist and arranger, he attended American Music World, and the Dorolyn Music Academy, but is primarily self taught.
Alex Gowland
(Lead Guitar) is a 20 year veteran of the United States Navy Band with whom he toured the world playing lead guitar. A graduate of the George Mason University music school, Alex brings great versatility to Clara May, spanning blues, rock,latin,jazz,country and classical guitar. Alex cites CT Bone Walker, Phil Keaggy, Pat Metheny, Larry Carlton, Lonnie Mack, BB King, Mark Knopfler, Chet Atkins and Jimmy Thackery as principal musical influences.
Jon Lewchenko
(Drums & Percussion) is one of Chicago's busiest drummers. He has played and recorded with renowned artists including Scott Murphy (of Allister), William Beckett (of The Academy Is...), Too White Crew, The Breakfast Club, Jamie Lono (finalist on NBC's "The Voice"), and Josh Scholl (winner of ABC's "Americas Karaoke Battle USA").
Andrea Bunch
(Backing Vocals) has performed and taught songwriting and harmony singing workshops across the States. She composed and engineered two critically acclaimed albums with Congress of Starlings. In June of '13, Andrea's rock-soul project Crumbs Off the Table released their debut, Ever Changing Hours. Andrea has also composes for film. Recently, she wrote the soundtrack for the documentary, Brink of Survival. She is currently a doctoral candidate at Northwestern University.
Nicole Sotelo
(Backing Vocals) has multiple lives as an activist, author and artist. She is also the author of "Women Healing from Abuse: Meditations for Finding Peace" (Paulist Press) and is a contributor to "Weep Not for Your Children: Essays on Religion and Violence," edited by Rosemary Radford Ruether and Lisa Isherwood (forthcoming from Equinox Publishing.) She holds a Master's degree from Harvard Divinity School and does workshops and retreats for Christian women healing from abuse. To learn more, visit
www.womenhealing.com
.